Wieder einmal war es nun in den letzten Tagen soweit, die mittlerweile schon fast gewohnte Fahrt nach Leipzig anzutreten, um uns für euch auf der Games Convention, der auf unserem Kontinent mittlerweile wichtigsten Messe für Videospiele, nach den neuesten Entwicklungen umzuschauen. Also waren wir am Pressetag und den ersten beiden Öffnungstagen der Messe in Leipzig und durften wieder einmal 3 schöne, interessante aber auch anstrengende Tage dort verbringen.
Die Messe hat sich mittlerweile als feste Größe etabliert, was durch die wiederum gewachsene Ausstellerzahl (von 207 in 2003 auf 270) und Ausstellungsfläche (von 40.000 in 2003 auf 55.000m²) sowie eine deutlich gestiegene Zahl an Welt-, Europa- und Deutschlandpremieren deutlich wird. Die Erwartungen der Messe scheinen auch aufgegangen zu sein, denn bereits am ersten Tag wurde das Tagesergebnis des Vorjahres um 14 Prozent überboten. Auch die Anzahl der Journalisten ist von 1.300 auf 1.600 gestiegen (allerdings nutzen auch viele jugendliche Betreiber von Mini-Sites diesen Weg, um an ein kostenloses Ticket für die GC zu kommen).
Für uns als auf Handhelds spezialisiertes Magazin war der Höhepunkt der Pressekonferenzen am ersten Tag natürlich, dass sowohl Nintendo, als auch Sony ihre neue Systeme DS und PSP kurz präsentierten. Im Gegensatz zu Nintendo präsentierte allerdings Sony sein DS auch am Messestand und somit der Öffentlichkeit, wenn auch nur hinter Glas. Bei Nintendo selbst war am Stand nichts vom DS zu sehen und auch im nur der Presse und Geschäftsleuten zugänglichen Business-Center konnte das DS nicht in Augenschein genommen, geschweige denn in die Hand genommen werden. Aus unserer Sicht die größte Enttäuschung auf der Messe. Angesichts der Gerüchte um eine verschobenes Release der PSP in den USA und Japan erst im 1. Quartal 2005 (näheres unter www.maniac.de) läßt dies durchaus daran zweifeln, ob das DS wirklich noch dieses Jahr außerhalb Europa´s erscheint, wie bislang versprochen.
Jedenfalls muss eines gesagt werden, die PSP übertraf unsere Erwartungen deutlich und dürfte, wohl auch bei einem wahrscheinlich doppelt so hohem Preis als beim DS ein absoluter Renner werden. Grafik und Sound sind absolut unglaublich und nahezu auf Playstation 2 Niveau. Das Display ist riesig und bietet dank hoher Auflösung gestochen scharfe Bilder. Die präsentierten Spiele ließen sicherlich bei zahlreichen Besuchern die Münder offen stehen. Schade, dass es nicht möglich war einen direkten Vergleich zwischen den beiden neuen Handhelds zu ziehen, aber sicher ist, dass dem DS mit der PSP ein sehr starker Gegner erwachsen ist, der in Realität übrigens flacher und kompakter als auf den bisher veröffentlichten Fotos wirkt. Nähere Infos zu DS und PSP können wir euch allerdings bereits in reichlich 4 Wochen bieten, wenn wir wahrscheinlich erstmals selber direkt von der Tokyo Game Show 2004 aus Japan berichten werden.
Thema GBA: Wie bereits im vorigen Jahr gilt auch beim Thema GBA das gleiche. Titel waren leider nur in geringer Menge zu sehen und konzentrierten sich auf wenige Entwickler. Neben Nintendo wird das Thema GBA lediglich bei THQ und Atari ernst genommen. Bei allen anderen Herstellern erscheint zwar der ein oder andere Titel, allerdings scheint es sich da oftmals nur um ein Mitnahmegeschäft zu handeln. Richtig Geld wird mit GBA Titeln meist nicht verdient. So war bei dem ein oder anderen Hersteller schon zu hören, dass sich oftmals überwiegend nur Nintendo-Titel richtig gut verkaufen.
Aber nun ein Überblick über auf der Messe vorgestellt Titel. Nintendo präsentierte mit Pokémon feuerrot und blattgrün zwei neue Editionen, die Ende des Jahres erscheinen. Neue Welten, neue Pokémon, eine Verbindungsmöglichkeit zu Pokémon Colosseum mit der der größte Pokedex aller Zeiten erstellt werden kann, neue geheime Extras und eine Kompatibilität zu Rubin und Saphir Version sollen für anhaltenden Spielspaß sorgen. Weiterhin erscheint auch ein Advance Wireless Adapter, mit dem zukünftig GBA kabellos verbunden werden können. Weiterhin erscheint am 29.10.04 auch eine Pink-Version des GBA, deren Zielgruppe wohl vornehmlich weiblich sein dürfte. Im September erscheint Mario Golf: Advance Tour, das gut gefallen konnte und einen gut gelungenen Abenteuer-Modus sowie einen 4-Spieler-Modus und eine Linkfunktion zum GameCube bietet. Sehr vielversprechend und garantierter Weihnachtshit wird wohl The Legend of Zelda: The Minish Cap werden, welches am 12.11 hierzulande erscheint. Sehr schöne, und farbenfrohe Grafik sorgen für eine tolle Optik des Spieles.Link kann nun schrumpfen wachsen und so zwischen seiner Welt und der verhexten Zwergenwelt des Minish-Volkes reisen. Neue Waffen, neue Verliese und Gegner und viele neue weitere Spielelemente sowie ein 4-Spieler-Modus werden für lang anhaltenden Spielspaß sorgen. Dafür wird auch Super Mario Ball sorgen. Nach dem vor einiger Zeit erschienenen durchschnittlichen Pokémon Flipper machte Mario Ball einen deutlich besseren Eindruck und glänzte mit zahlreichen Flippertischen und überragender Grafik Ziel ist es natürlich wieder einmal am Ende zahlreicher Flipper-Level Prinzessin Peach zu befreien. Flipper-Fans dürfen scon mal mit sparen anfangen (Release: ende 2004). Mit Mario vs. Donkey Kong erscheint am 19.11 ein weiterer Mario Titel, welcher 6 extrem rätsellastige Welten bietet. Die Aufgabe des Spielers ist es dabei, Mario zu helfen eine Mini-Spielzeug-Mario-Truppe durch hindernisreiche Level zu führen. Und noch ein Mario Titel erscheint Ende 2004: Mario Party Advance. Die Erfolgsreihe vom GameCube gibt es also auch bald für unterwegs und wird 60 Mini-Games bieten. Allerdings auf GBA leider nur für 1 oder 2 Spieler. Ob dafür ein oder 2 Module notwendig sind, konnte uns leider nicht beantwortet werden.
Bei THQ war zum einem The Polar Express, das neueste Sponge Bob: The Movie zum Kinofilm und zum gleichnamigen Disney/Pixar Titel The Incredibles (Die Unglaublichen) die GBA-Version spielbar. Bei letzterem handelt es sich um einen Sidescroll-Prügler im klassischen Final Fight bzw. Streets of Rage Stil, der auf den ersten Blick ganz nett wirkte. Bei den beiden anderen Spielen handelt es sich jeweils um Jump´n Runs. SpongeBob wirkte auf jeden Fall spielerisch besser als die bisherigen Titel zur Serie und läßt auf einen überdurchschnittlichen Lizenz-Titel hoffen. The Polar Express konnte im ersten Level, den ich anspielte nicht wirklich überzeugen und wirkte spielerisch ziemlich monoton. Außerdem bei THQ: Findet Nemo: Das Abenteuer geht weiter.
Von Atari´s Releaseliste konnten wir folgende Titel entnehmen: Dragonball Z Supersonic Warriors und Digimon Battle Spirit 2 (beide ab 26.08.04), Yu Yu Hakusho Spirit Detective, Action Man Robot Atak (beide 23.09.04, UVP 29,99 €), der große und wohl ziemlich interessante Yu-Gi-Oh! Konkurrent aus Japan Duel Masters: Cobalt (28.10.04) und Beyblade GRevolution (04.11.04).
Aus dem Hause Konami ist ein Release von Shaman King für 2005 in Deutschland angekündigt. Des weiteren erscheint im September Yu-Gi-Oh! Reschef der Zerstörer. Beide Titel wurden leider nicht präsentiert.
Ansonsten galt das gleiche wie schon letztes Jahr: Die Handhelds, zur Zeit gleichzeitig GBA bedeutend, nehmen auf der GC nur eine untergeordnete Rolle ein. Der große Trubel dreht sich ausschließlich um die großen Konsolen. Allerdings dürfte sich nächstes Jahr dank DS und PSP daran wohl so einiges ändern, was uns jetzt schon auf den August 2005 freuen läßt. Wir sind gespannt, wie sich das Release der beiden neuen Stars am Handheld-Himmel auf den GBA auswirken wird. Wird sich der GBA als preiswertere Konsole für unterwegs für die jüngere Zielgruppe etablieren oder wird dies der Anfang des Nidergang von Nintendo´s derzeitiger großen Geldmaschine sein? eine antwort findet ihr an dieser Stelle im nächsten Jahr.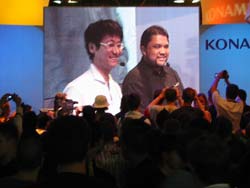 Mr. "Metal Gear Solid" Hideo Kojima am Konami-Stand.



Menschenmassen in einer der Messehallen.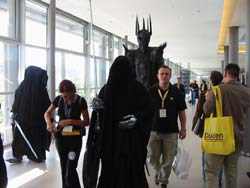 Dieses Jahr reisten auch aus fernen Ländern zahlreiche Gäste an.



die immer längste Warteschlange vor einem Spiel auf der diesjährigen Messe: Halo 2 für XBOX.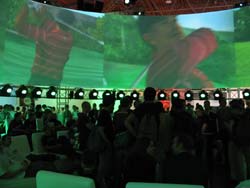 Beeindruckenter Messestand war wohl der von EA mit beeindruckendem Rundum-Kino.

UMD von Gran Turismo 4 für PSP.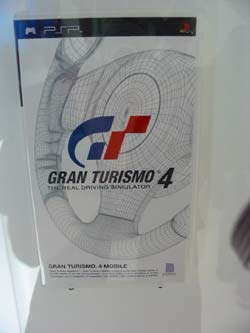 So sehen die PSP-Spielverpackungen uas. Erinnern ziemlich an N-Gage Packungen.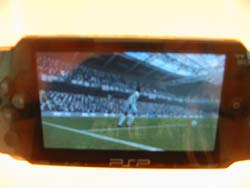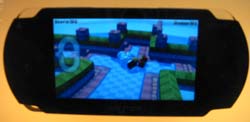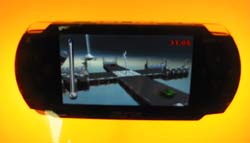 PSP in Action.