Herzlich willkommen zum ersten Tokyo Game Show Bericht von traumerlebnis.de! Wir haben weder Kosten noch Mühe gescheut und so hat unser Chefredakteur Ronny extra seinen China-Urlaub für einen Abstecher nach Tokyo unterbrochen, um sich für euch nach den neuesten Spielen und Trends auf der größten und wichtigsten Videospiel-Messe Asiens umzuschauen.
Die Tokyo Game Show dieses Jahres entspricht größenmäßig in etwa der Games Convention in Leipzig, dauert aber im Gegensatz zu dieser statt 4 nur 2 Tage. Hinzu kommt dann in Tokyo noch ein Ausstellertag, an welchem die Öffentlichkeit keinen Zugang zur Messe hat.
Im Mittelpunkt der Messe stand, nicht zuletzt aufgrund der Abwesenheit von Nintendo auf der Messe, Sony´s PSP, die ganz groß mit einem eigenen riesigen Stand präsentiert wurde und zu welcher auch bei zahlreichen anderen Ausstellern bereits einige Titel anspielbar waren. Leider war vom Nintendo DS dagegen nicht allzu viel zu sehen, da sich die vorgestellten Titel eben leider nur auf eine Handvoll von Drittherstellern bezog, die an den jeweiligen Firmenständen zu sehen waren. In Sachen GBA verhielt sich die Situation auf der TGS ebenso wie schon in Leipzig auf der Games Convention. GBA Titel sind nur vereinzelt zu sehen und repräsentieren bei Weitem nicht den Status des GBA in Japan. Im Gegensatz zu Leipzig liegt das in Japan wohl eher daran, dass auf der Messe halt lieber Titel für die großen oder neuen Konsolen präsentiert werden. Spiele erscheinen in Japan für Nintendo´s Kleinen genug. Hier muss sich noch niemand sorgen machen. Die hohe Verbreitung des GBA wird schon dadurch sichtbar, dass man bei jeder zweiten U-Bahn Fahrt in Tokyo irgendjemanden mit einen GBA in der Hand in der Bahn sitzen sieht (alternativ werden Manga gelesen oder die Fahrt auch gerne für ein Schläfchen genutzt).
Statt GBA-Titel erwarteten den TGS Besucher im Bereich des mobilen Entertainment dafür unerwartet viele Handyspiele, teilweise in für Europa unbekannten Aufwand. So konnte unter anderem ein Titel aus Namco´s "Tales of ..." Rollenspie-Serie für Handy bewundert werden, welcher optisch und sicherlich auch in Sachen Umfang fast GBA-Niveau entsprach. Success kündigten fürs Handy ein Wizardry sowie gleich noch zwei weitere RPG an. Aber auch Fast Food Restaurant Simulationen, Adventures, Karten- und Brettspiele, Flipper, Zugsimulationen oder Tischtennis finden den Weg aufs Handy. Die Auswahl ist riesig und teilweise in beachtlicher Qualität (Polygongrafik!!!). Wer das richtige Handy hat kann dieses sogar an den Fernseher anschließen und diesen als Monitor benutzen. Weitere demnächst in Japan erscheinende Handy-Titel wären: Devil May Cry (komplett 3D), Arc the Lad, Y´s 6, Xenosaga, Metal Slug STG,

Typisch für Japan waren natürlich auch Titel zu sehen, die in Deutschland nie die Chance einer Veröffentlichung hätten. Gutes Beispiel hierfür wäre ein neues Hello Kitty Spiel für PS2 oder diverseste Sport- und Actionspiele in welchen grundsätzlich nur Bikini-Schönheiten als Charakter zum Einsatz kommen.

Nun zum Star der Show, der PSP. Auf der Messe wurden immerhin bereits circa 50 Titel gezeigt, die meisten davon auch schon spielbar. Der PSP-Stand selber bestand aus einem Rondell von über 40 PSP-Stationen, an welchen man alle möglichen Titel antesten konnte (Wenn man genügend Zeit mitgebracht hatte). Ich selber legte als erstes an Gran Turismo Hand an. Fazit: Geil! Der Bildschirm ist riesig, die Grafikqualität und technische Power der PSP absolut beeindruckend und der Sound bewegt sich ebenfalls nahezu auf Heimkonsolenniveau. Gran Turismo sieht wie ein PS2-Titel aus und ist sehr schnell und flüssig. Auch bei schnellen Bewegungen auf dem Bildschirm hält sich der für LCD typische Verwischeffekt in Grenzen. Was mir eher negativ auffiel war, dass die meisten PSP-Konsolen schon ziemlich zerkratze Displays aufwiesen, obwohl diese sicherlich noch nicht lange im Einsatz waren. So etwas darf eigentlich nicht sein. Hier muss sich Sony sicherlich noch Gedanken machen, denn ansonsten sehe ich zahllose PSP-Besitzer, welche gezwungen sind sich ihr zerkratztes Display (sicherlich teuer) austauschen lassen zu müssen. Ebenfalls habe ich kleine Zweifel, ob die relativ stark reflektierende Oberfläche bei Tageslicht nicht zu sehr die Sicht behindert. Aber genug gemeckert. Hier nun eine Aufzählung angekündigter PSP-Titel.
Tiger Woods PGA Tour (Golf), Need for Speed Underground Rivals (Racing), Mobile Train Simualtor & Densha de Go Tokyo (Zugsimulation), Vampire Chronicle: The Chaos Tower (2D Beat'em Up von Capcom), Metal Gear Acid (Action von Konami), Coded Arms (FPS von Konami), Koron (Puzzlespiel von Cyberfront), Puyo Puyo Fever (Puzzlespiel von Sega), Grant Turismo 4 (Racing von Sony), Popocolocois (RPG von Sony), Golf (Sony), Super Puzzle Bobble (Puzzlespiel von Taito), Question 7 (Adventure von Now Production), Ridge Racer (Racing von Namco), T.O.E. (RPG von Namco), Rengoku: The Tower of Purgatory (RPG von Hudson Soft), Armored Core Formula Front (Mech-Simulation von From Software), Gagharv Trilogy (RPG von Bandai), Dead Aggressor (Mech-Simulation von Bandai) sowie diverseste Brettspiele und Glücksspielautomaten-Versionen, die für Europa nicht interessant waren und technisch die PSP bei weitem nicht ausnutzen.

GBA: Beet The Vandel Buster: The Buster´s Road (RPG von Bandai), Vattroller X (RPG von Bandai), Gundam Force SD Superior Defender (Mech-Action von Bandai), Duel Masters 3 (Atlus, zu 60% fertiggestellt), Puyo Pop Fever (Sega, fertiggestellt). Die Mehrzahl der in Japan angekündigten Titel sind allerdings Rollenspiele. Somit dürften die meisten dieser Spiele nie den Weg über Japan´s Grenzen hinaus schaffen.

Auf dem DS konnte unter den wenigen Titeln eindeutig Sega´s Kimishine als interessantester Titel identifiziert werden. Eure Aufgabe scheint es zu sein, hübsche Mädchen dank Touchscreen an der richtigen Stelle zu streicheln bzw. zu kitzeln. Besonders der Soundtrack konnte bei diesem Titel überzeugen. Verantwortlich für das Spiel ist Sega´s Sonic Team, was eigentlich ein Garant dafür sein dürfte, dass hier ein tolles Spiel auf uns zukommt (Japan-Release: 02.12.2004).
Ebenfalls aus dem Hause Sega erscheint am 24.12.2004, wie für nahezu jede andere Konsole auch eine neue Version des Puzzle-Klassikers Puyo Puyo Fever (sogar für Dreamcast erscheint der Titel!). Sicherlich erscheint dieser Titel später auch bei uns. Ansonsten war in Sachen Nintendo leider nix weiter zu sehen.
Die PSP scheint also bei den entwicklern bevorzugt zu werden. Aber trotzdem brauch sich sicherlich niemand um die ausreichende Anzahl kommender DS-Titel sorgen zu machen.

Fazit: Neben dem neuen Resident Evil 4 für den GameCube waren die neuen tragbaren Konsolen die Stars der Messe. Die PS2 ist noch lange nicht tot und Handys nehmen in Japan beim mobilen Spielen eine immer wichtigere Position ein. Die XBOX führt in Japan ein Schattendasein, was auch am relativ menschenleeren XBOX-Stand zu erkennen war.

Vatroller X für GBA (RPG)



Vatroller X für GBA (RPG)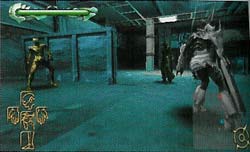 Rengoku: The Tower of Purgatory



Rengoku: The Tower of Purgatory (PSP)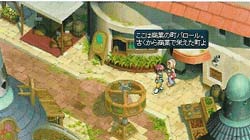 T.O.E. (PSP)



Y´s fürs Handy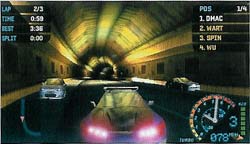 Need for Speed Underground Rivals (PSP)



Metal Gear Acid (PSP)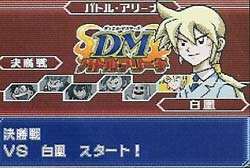 Duell Masters 3 (GBA)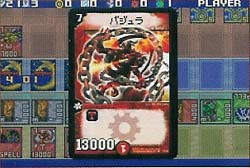 Duell Masters 3 (GBA)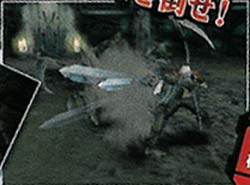 Devil May Cry fürs Handy!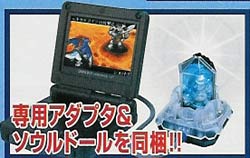 Ausgefallener Zubehör-Kristall für ein GBA-Rollenspiel.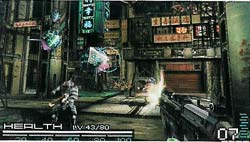 Coded Arms (PSP)



Typisch Japan, eine ganze Serie verschiedenster Spiele mit Bikini-Schönheiten als Charaktere erscheint für PS2.



Arc the Lad fürs Handy.

Scheint wohl der Weg zur TGS zu sein...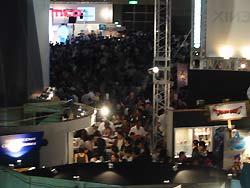 Da soll sich nochmal einer über zu viele Menschen auf der Games Convention beschweren...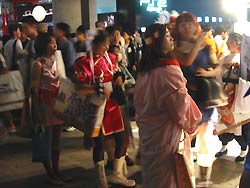 Chun Li aus Street Fighter hat sich auch über die neuesten Spiele informiert!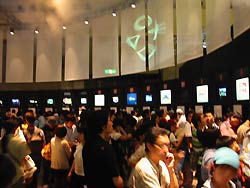 Das PSP-Rondell am Sony Stand.



Jeder will die PSP ausprobieren.



diebstahlsicher an Sony-Mitarbeiterin angekettete PSP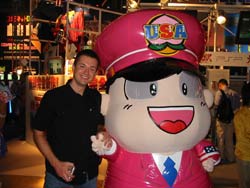 Daniel von Cosmigo (l.) (unter anderem Macher von Muppet Pinball für GBA, derzeit Ultimate Brain Games für DS in Entwicklung)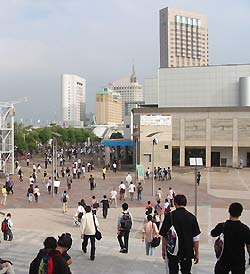 Außengelände des Makuhari-Messegeländes bei Tokyo



Messe-Schönheiten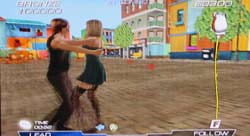 "Digi Dance" - Tango für die PS2.



Sega´s Kimishine für DS zum ausprobieren.



Hello Kitty für PS2.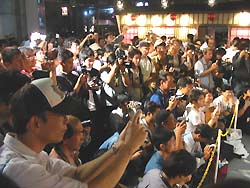 Hier wird kein Superstar sondern nur eine sexy Hostess fotografiert!